On the Edge Fest is a long-term project, the content of which is to take a closer look at borderline conflicts in different regions, especially where there has been war or actual social problems. "Exposition of artists, which explores the hidden tensions from inside"
This year focus is exposition of Ukrainian photography, which explores the geopolitical, psychological and self-identical uncertainties & fears both inside of a country itself and in relationship with its neighbors. By describing the decay of the almost surreal periods authors reach the edges – fringe areas and fields of life, which seems to be forgotten by the whole world. This way, they provide us an opportunity to self-reflect, reminding us that freedom and dignity are genuine values of the true society which cares about their own cultural heritage and builds their independent future regardless of the sneaky intentions of aggressors which act under the red veil of common past and present. 
The topic was picked in autumn of 2021, yet it became even more relevant with Russia's full-scale invasion of Ukraine on 24 February 2022 that has changed our lives. We stand with the Ukrainian people as they fight for Freedom. Presenting the works of Ukrainian authors in Estonia is a symbolic as well as an actual statement of support – the exhibition is accompanied by a charity fundraiser for Ukraine, as was also the case at the exhibition on Ukrainian frontline photography in the OKAPI Gallery in the spring of 2022.
The focus of the exhibition is on twelve Ukrainian authors whose projects have been curated by Temuri Khvingia, photo artist and gallerist, and Andrii Mur, Ukrainian street and documentary photographer living in Estonia. The exhibition is prepared in cooperation with the festival Odesa Photo Days (Kateryna Radchenko), the association of Ukrainian street photographers community and with the founder of Untitled (Mikhail Palinchak).
---
Baltic Station Art Street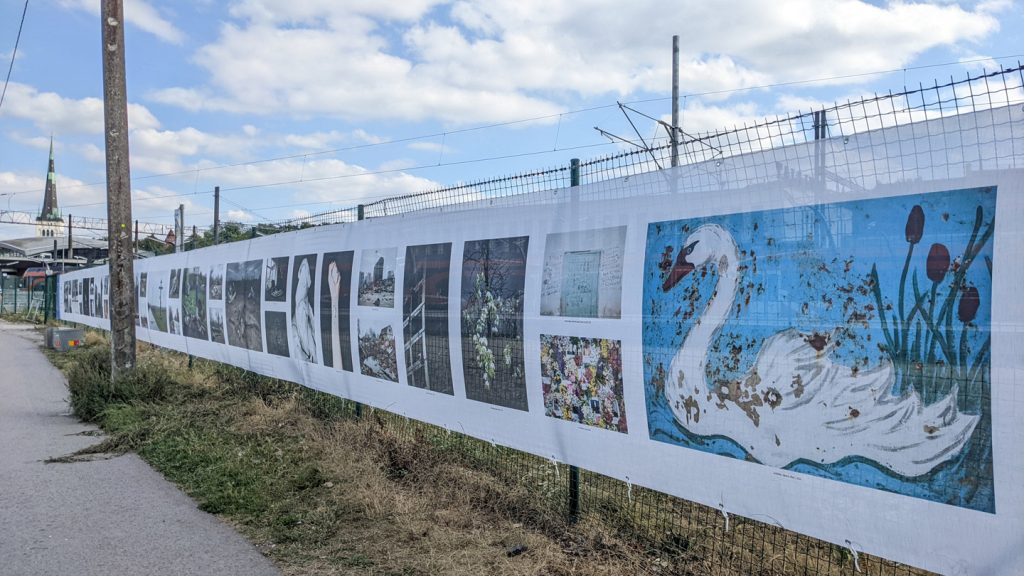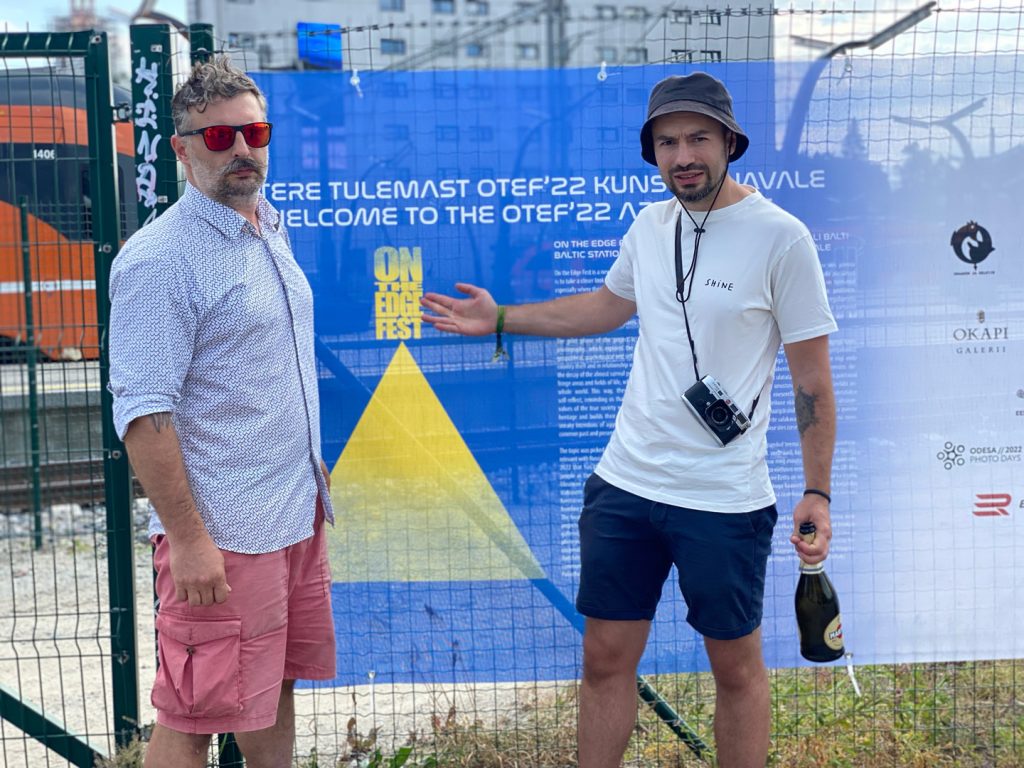 Telliskivi Creative City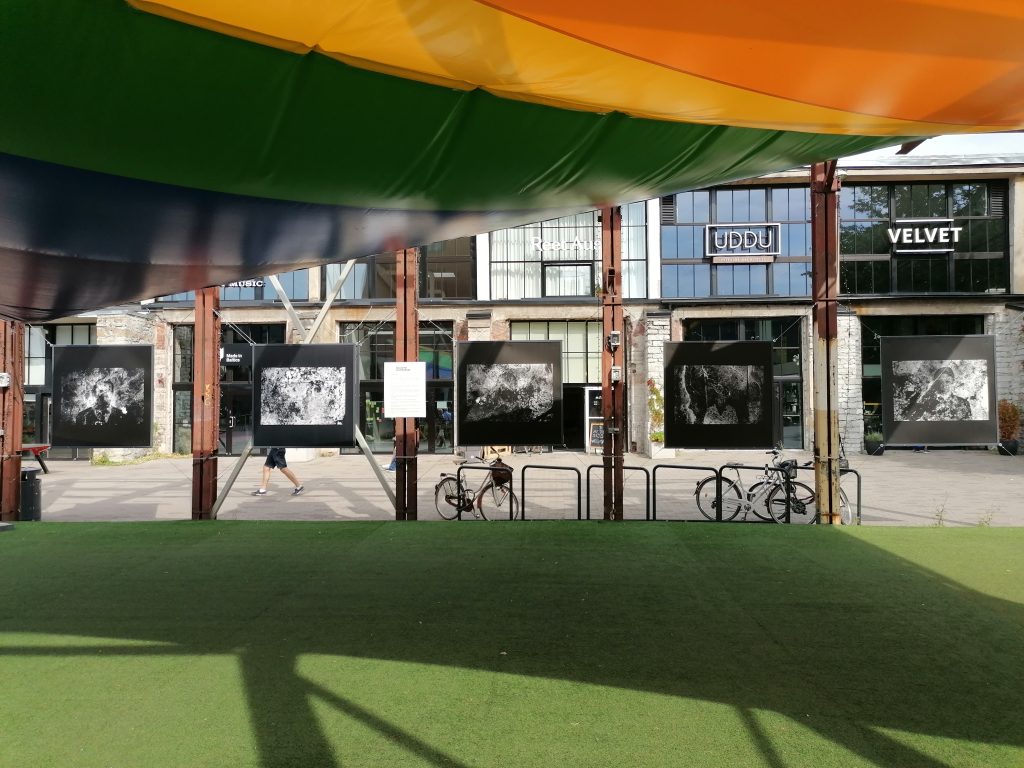 OKAPI Gallery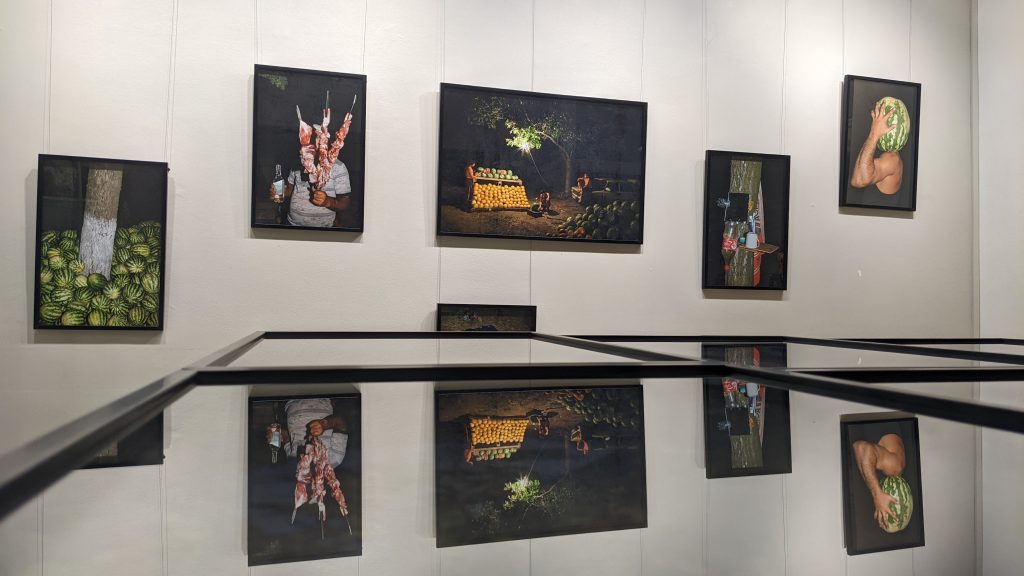 Lendav Maaler terras
---
AUTHORS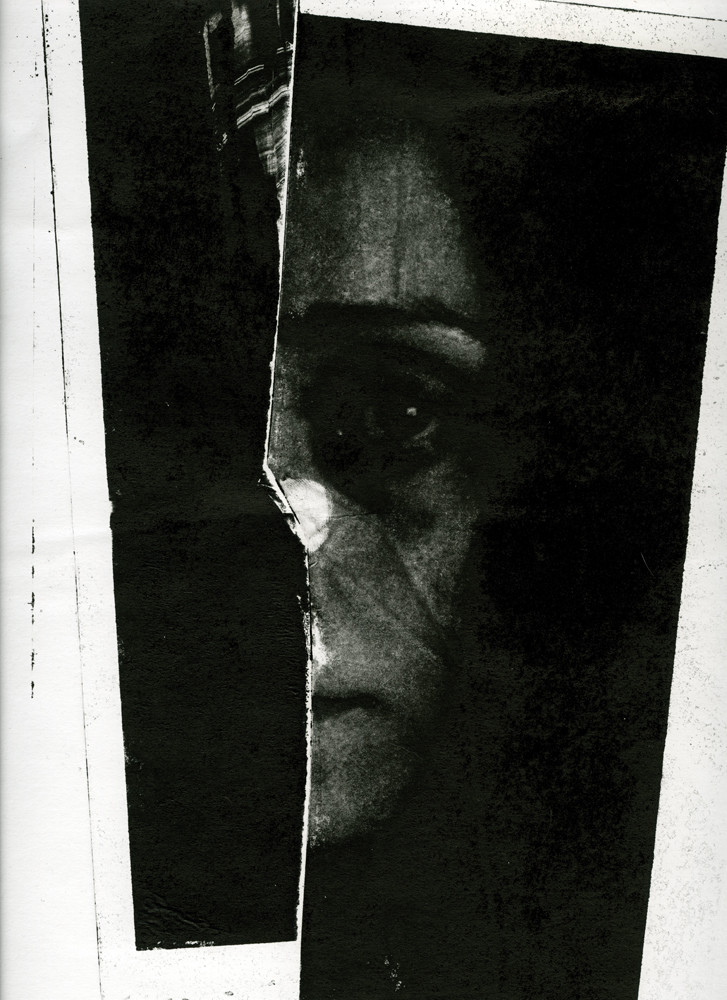 Anna Melnikova "City No Name" The photo project created together with Dima Krasny represents an attempt to create a new reality within one image and to show how the city distorts the personality as easily as we distort the image of the city. Melnikova is a photographer, artist, curator and teacher who has participated in exhibitions and festivals in Ukraine and Europe, including presenting her book on gender studies at the UNSEEN festival in Amsterdam. Her photographic works belong to private collections in Holland, Italy, Belgium. For the past three years she has taught master classes and given workshops across Europe. Currently she is the main curator and organizer of the Ukrainian Women Photography Organization.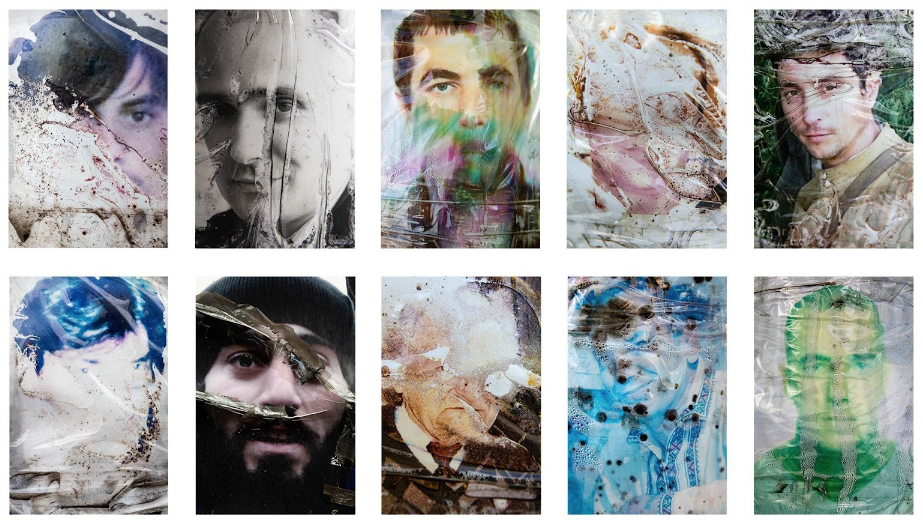 Mikhail Palinchak "Maidan Faces" The content of the series is portraits of protesters who were killed in clashes with riot police in the heart of Kyiv in 2014. Five years later, while walking around the place, Palinchak found photographs of the victims, which had been hung on trees by their relatives and friends, and which over time had faded and been damaged by moisture. Some of the photos were as if erased with an eraser, and the whole set raised the question of what remains when even the photo disappears?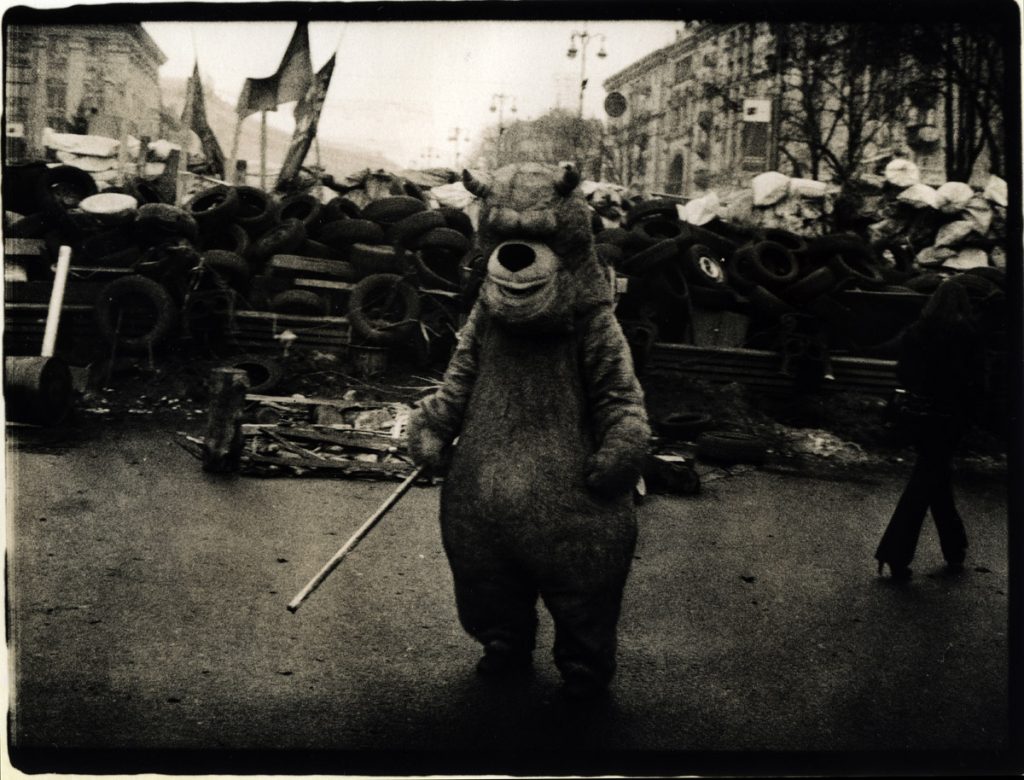 Shilo group "Chronicle" Arranged in chronological order, the photos from 2010-2015 form book chapters that function simultaneously as reactions to life changes and as documentation of these reactions. Scenes from the Kharkiv frontline, revolutionary Kiev, Donetsk and Luhansk regions are the ones that will determine the future of Ukraine and the whole of Europe. Shilo Group was founded in 2010 by photographers Sergiy Lebedynskyy and Vladyslav Krasnoshchok and has taken part in several international festivals and exhibitions.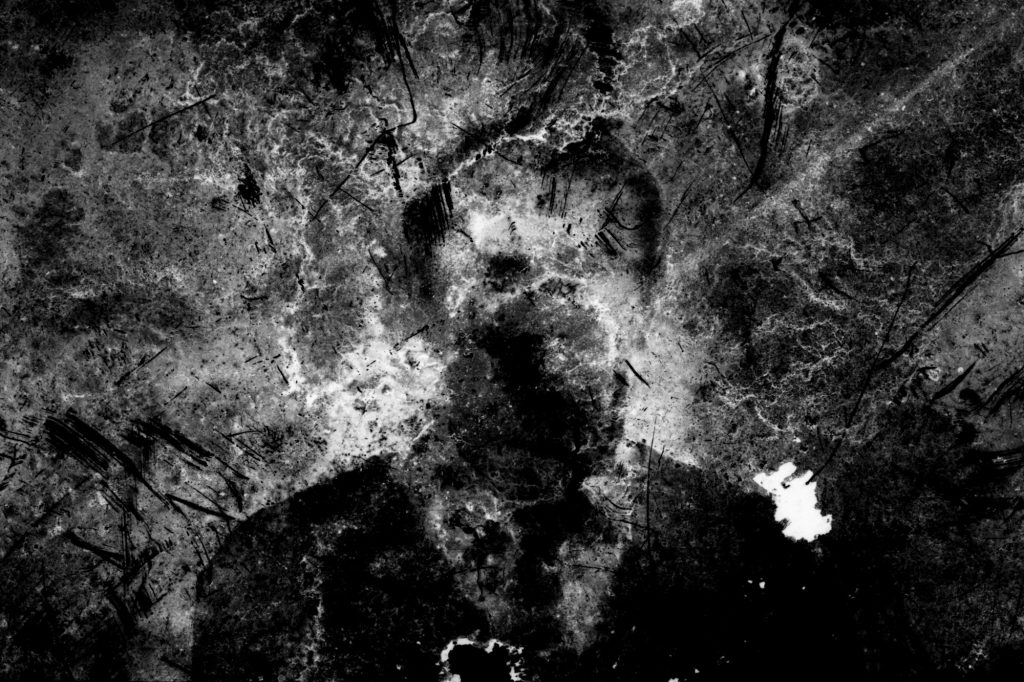 Maxim Dondyuk "Apeiron" An abstract series that consists of found old films that were lost and forgotten several decades ago in the cities and villages of Chernobyl. For more than 35 years these negatives had been laying in dilapidated, looted houses, being subject to very slow degradation under the influence of radiation and the elements of nature. Passing through stages of disappearance, erasure, and decay, they retained the traces of evidence of bodies or things that left their mark on the photosensitive film emulsion.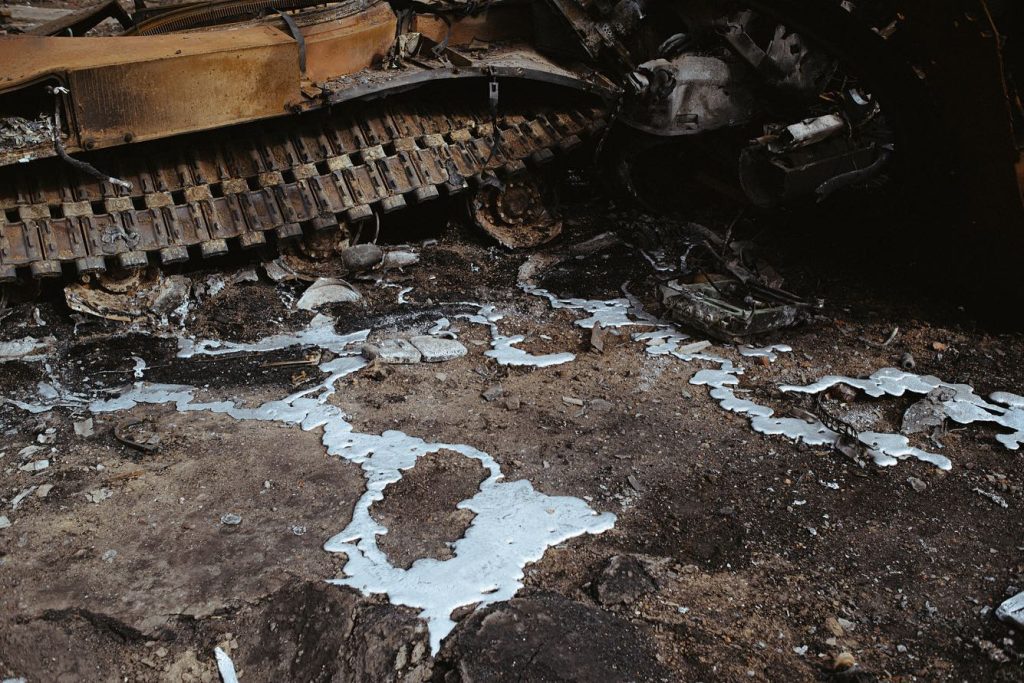 Maxim Dondyuk "Traces of War" War devastates everything. It cripples human souls and bodies, destroys buildings, and harms nature. There are no winners and no losers. All that remains are destruction, pain, and suffering. It puts an unforgettable footprint on everything that touches. Starting from the revolution of 2013-14, Dondyuk is chronicling this long-lasting battle of the Ukrainian people for freedom, independence, and national identity.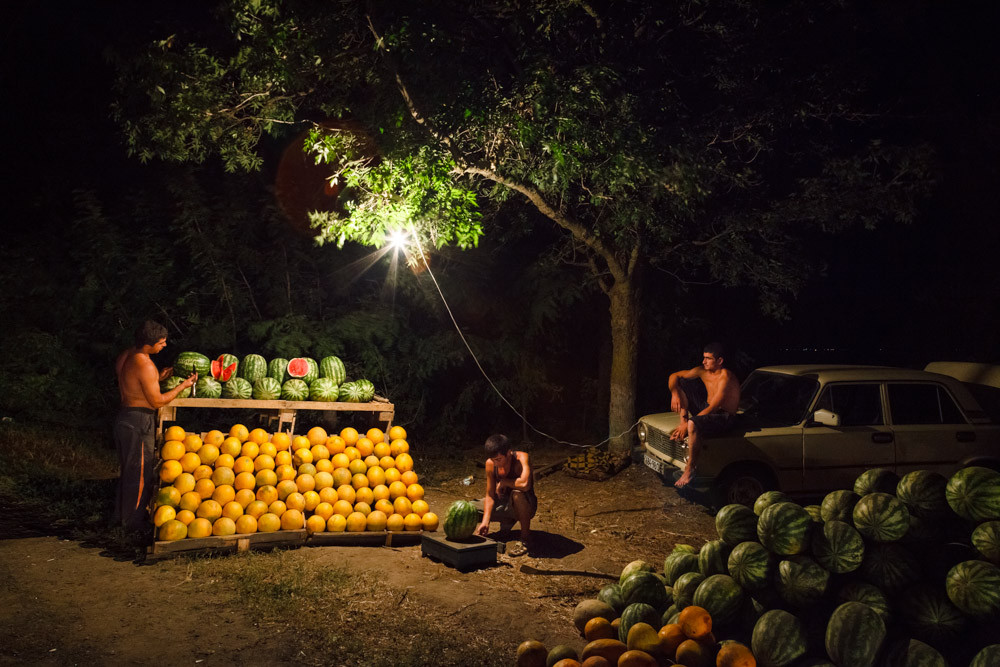 Kirill Golovchenko "Bitter Honeydew" The project is about migrants from Azerbaijan, Georgia and Armenia, who sell vegetables and fruits to tourists at roadside markets around the Black Sea until midnight, fight thieves, blend in with the locals and move on after a while. The author's works reflect both the phenomenon of nightlife and sympathy for men and women uprooted from their homeland, and they are accompanied by his poetry with bitter makeup in writing. Golovchenko was born in Odessa, studied photography and design at Darmstadt University and did research at DAAD and Künstlerhaus Schloss Balmoral.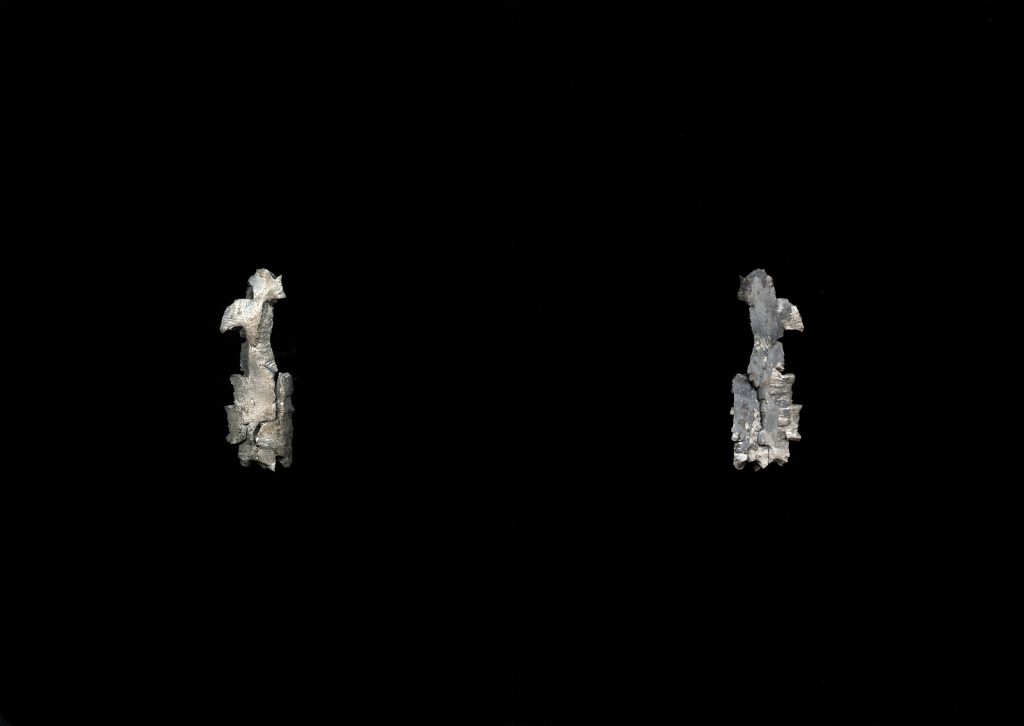 Dmytro Kuptiyan "Fragments of War" At the heart of the project are munitions parts found in the Donbass areas, which resemble pieces of asteroids and whose sharp edges can kill and maim. Each of them has had their own journey from the barrel to the disbandment, and we will never know on which side of the conflict that journey began. Humans – soldiers, civilians, volunteers – all scattered from their homes onto the battlefield are also fragments of war. Kuptiyan has worked as a photojournalist and dealt with topics such as police torture, violence in a broader sense, and dialogue in society as reconciliation.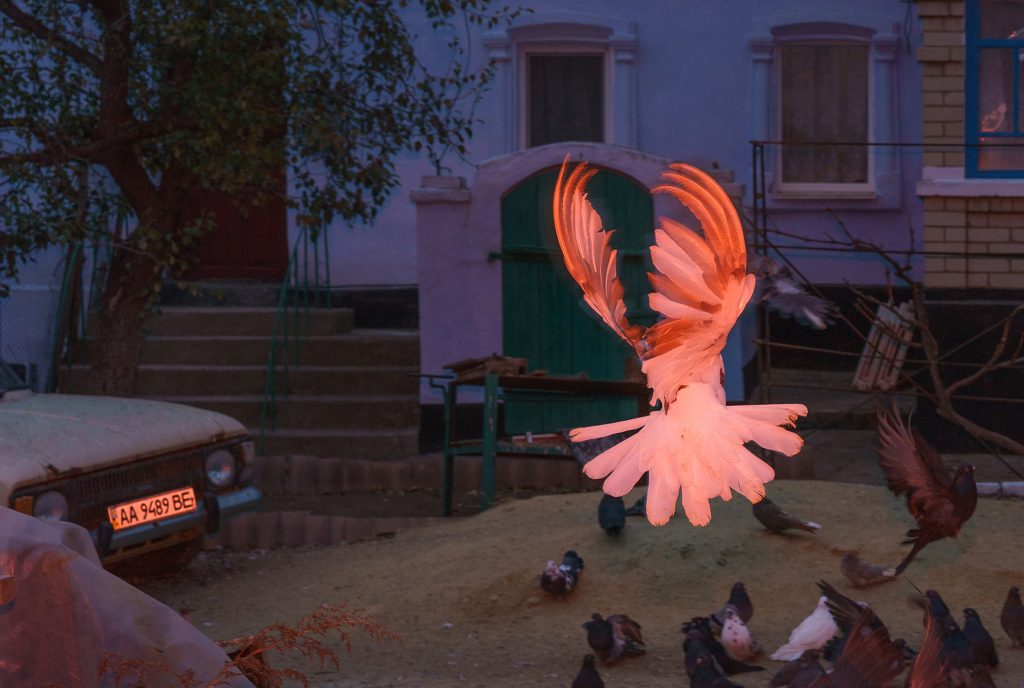 Xenia Petrovska "At the Origins" Capturing stunningly mystical, fairy-tale views of Ukrainian villages, the author explores the notions of home and belonging. The image of home, rooted in his childhood memories, embodies a place to always return to in the real world. In the photos, familiar views from childhood remind her of a dream, which helps to develop the theme of home as a kind of personal microcosm and as a sacred place in our thoughts. Petrovska has studied photography at Dmytro Bogachuk's courses at the Kyiv School of Photography and at Serhi Melnichenko's MYPH School.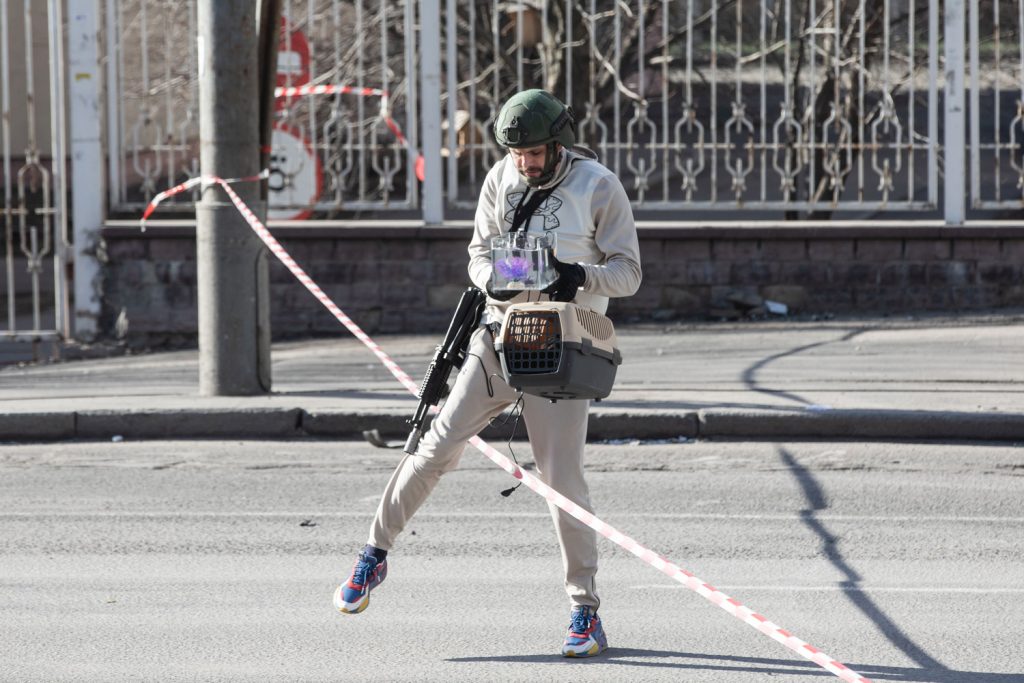 Mikhail Palinchak "War Photography 2022" Reportage photography of war in Ukraine that started on February 24 2022 will be presented. Palinchak is a street and documentary photographer from Kyiv who belongs to several professional organizations. He is the official photographer of the former President of Ukraine (2014-2019). Founder of Untitled magazine and co-founder of Ukrainian Street Photography group. Published in numerous magazines: TIME, The New York Times, Esquire, El Mundo, The Atlantic, The Guardian, Forbes.
Sergey Vaganov "Desaturation" The series depicts Mariupol border reportage volunteers in the summer of 2014. While in photography, desaturation means the reduction of pigment in paint, in medicine, saturation means oxygen saturation in the blood. As the author himself says, the war punched in a stomach and knocked the air out, desaturation for him means suffocation. Vaganov is a photojournalist who studied medicine and worked as a traumatologist, later as a photo correspondent in Donetsk, contributing to national and international agencies.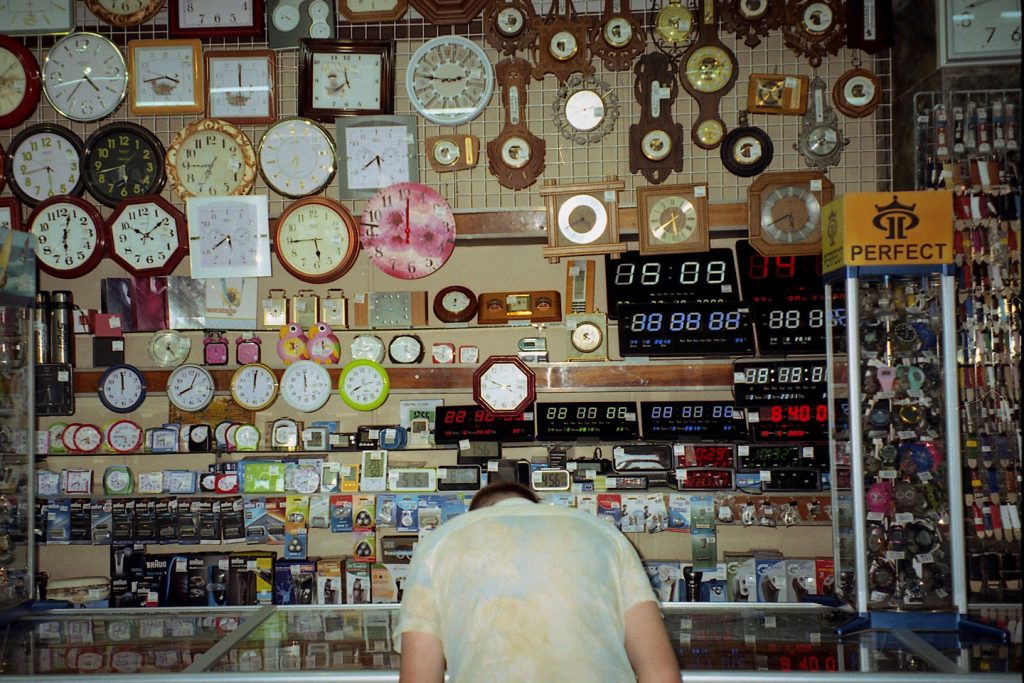 Taras Bychko "Out of Time" While working on his project, the author travels across the territory of Ukraine and tries to show the viewer a time that seems to have stopped in the 60s, 70s, and 80s. His desire is to show the contrast of human life despite dynamic changes in economy, culture and society. The series reflects the fleeting spirit of the time preserved in Ukraine. Bychko works within the genres of documentary and street photography. His work has been exhibited at the Miami Street Photo Festival (2016, 2017, 2018), Odessa / Batumi Photo days (2017), Leica Street Photo(2018) and many other international and Ukrainian photo competitions.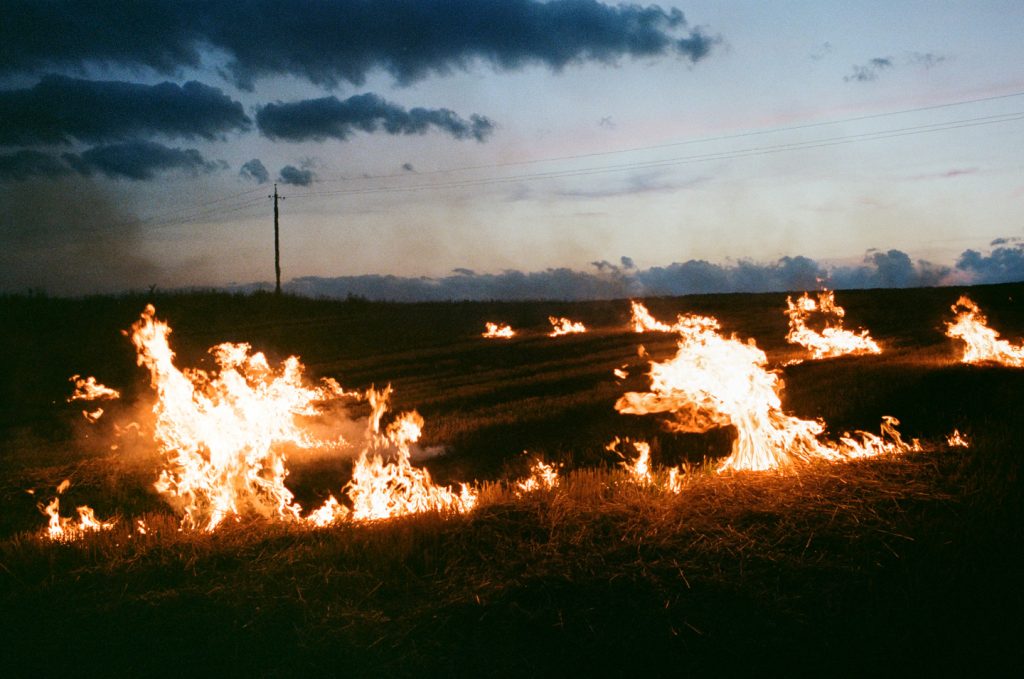 Andrii Mur "Attention. Air Alarm Off" Excerpt of the photographs made in peaceful Ukraine out of the long term project "Fulfilling Emptiness"put in nowadays context.Places that are empty and filled simultaneously. Only the viewer is aware of what might have happened before and would happen afterwards. In today's reality where "air alarm" violates our livesdaily, people are caught in the moment constantly left with the personal questions like "Where am I now?", "What do I feel?", "What to do next?" etc. Mur is a street and documentary photographer from Ukraine based in Tallinn, Estonia. Active member of Ukrainian photography community and winner of multiple worldwide acclaimed awards like MSPF, DFA, ISPA, etc.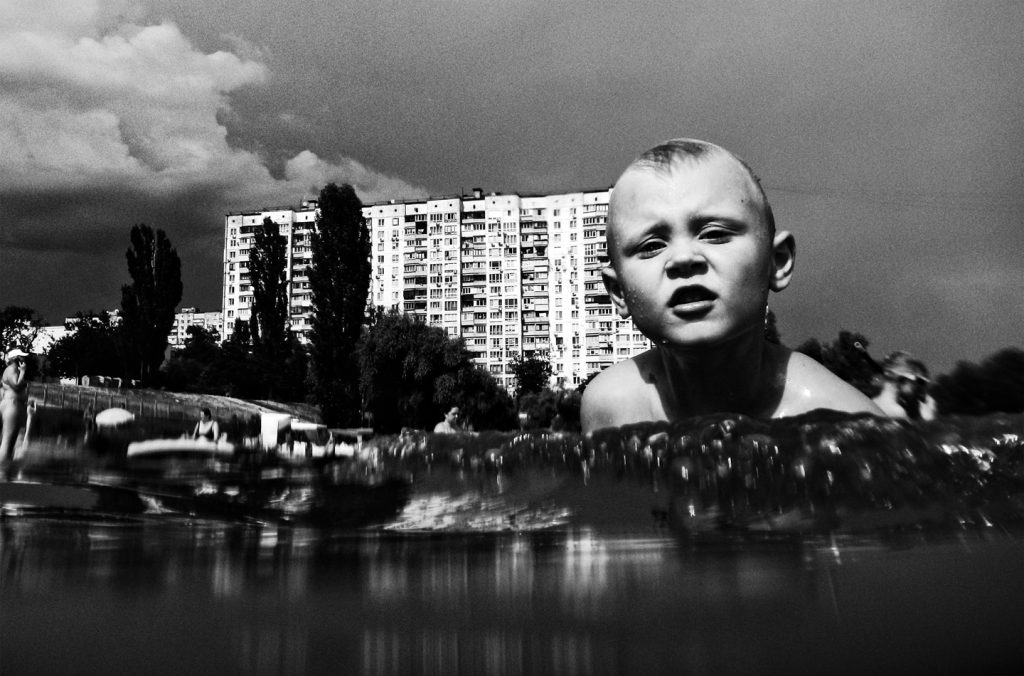 Lisa Bukreyeva "Dead Water"
In Ukrainian folklore and fairy tales «dead water» –
heals the body, allows it to find its integrity, but does not
bring it back to life. It is able to heal wounds, but not the soul.
Lisa Bukreyeva – photographer based in Kyiv, Ukraine. Lisa focuses on personal documentary series. Member of Burn My Eye collective.
Finalist in numerous international Street photography Festivals.
---
PARTNERS